The 2022 Subaru Love Promise Customer and Community Commitment Award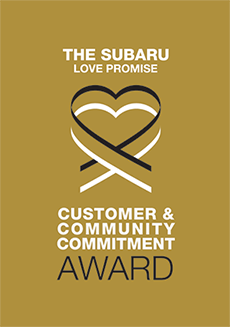 We've been nationally recognized for our dedication to our customers, our community, and the Subaru Love Promise.
We're honored to receive the 2022 Subaru Love Promise Customer and Community Commitment Award. This award nationally recognizes elite Subaru retailers who provide an exceptional customer experience at every interaction with Subaru. These retailers have also demonstrated an outstanding commitment to supporting passions and causes in their local communities in important areas such as the environment, community, health, education, and pets.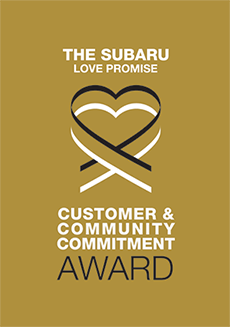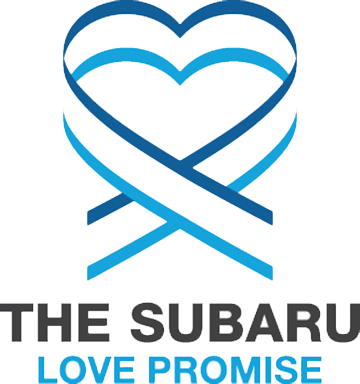 What is the Subaru Love Promise?
Subaru and our retailers believe in making the world a better place and the Subaru Love Promise is our vision of respecting all people. This is our commitment to show love and respect to our customers and to work to make a positive impact in the world.
How is DELLA Subaru of Plattsburgh dedicated locally to the Love Promise?
DELLA Subaru is committed to taking care of our customers the best we can, and giving back to the local community. We have many happy customers who trust us to take extraordinary care of them, their family, and their friends. We also host a variety of events throughout the year that benefit the community. Such as the pet adoption we had at our store this past October, partnering with the YMCA as our local charity for Subaru's share the love event, and many other events we participate in.
Adirondack Animal Shelter
Bottle drive for kids Christmas, YMCA
Blankets for Stop Domestic Violence
Love Promise Stories from DELLA Subaru of Plattsburgh
Subaru and DELLA Subaru of Plattsburgh believe in making a positive impact on the communities in which we live and work. We uphold that belief through our Love Promise Community Commitment. Every month, we select inspiring stories from customers and partners from around our area who strive to support our collective commitment and feature them here
YMCA is for All - Subaru is for All - Amy K
In 2020, I lost a young family member to suicide. Elliot was a kind soul who was up against so many of the struggles high schoolers faced during COVID: isolation, loneliness, fear, and in his case, cultural and societal pushback against his gender transition. His loss was and continues to be deeply felt. I will not forget the day I came to the Plattsburgh YMCA and saw a beautiful statement boldly applied to the main stairway. Each step created a rainbow of inclusion. All welcome. All religions. All genders. All ages. All levels of ability. The YMCA is truly committed to being a safe place for everyone in our community. I took a photograph of the stairway and texted it to Elliot's friends. I sent this message with it, "I just wanted you to see that the world is shifting gears a little at a time. I know it probably feels slow, and there may be days that you feel you're up against the proverbial "it". I want you to know that there are safe spaces for you out there. There are people who have your back." They responded positively to my text as young people often do; with sentences comprised of emoji's. In the two years since (and the many before), the YMCA has done so much to help working families who need childcare, change kids' lives with camp experiences and help people with disabilities have better access to the facilities and to Y programs. They've made efforts to be inclusive and to send the message that the YMCA is for all. Della Subaru has contributed more than $50,000 to our YMCA locally and I know firsthand how those dollars create scholarship opportunities. Subaru continues to invest in our community in ways that touch so many people's lives indiscriminately and in such meaningful ways. Thank you, Della Subaru, for focusing your charitable work on community programs that are truly for all!!
---
+Della Subaru Plattsburgh, New York Loves Pets - Shirley M
Della Subaru, Plattsburgh, N.Y. Subaru Loves Pets Initiative hosted the North Country Animal Shelter Malone, N.Y. to their dealership October 23, 2021. They sponsored the Animal Shelter for the Subaru Loves Pets Month of October adopt a Shelter Pet. Subaru retailers support animal welfare organizations in Saving Shelter Pets through adoptions. During the Month, Della collected Many donations of food, toys, blankets and cleaning supplies for the shelter. On the 23rd Della Staff Shaelynn, Casey and others invited the Shelter to bring to the Dealership pets available for adoption. The children enjoyed the day playing with the Puppies, Kittens, and entering a coloring contest. Prizes won by all.. We had a guest give a presentation on all the ways to keep a pet happy and healthy in life. That life without quality and love is no way for a pet to live. Then too children love telling stories on the pets they have or had. It was a very exciting and fun day for all. It gave an opportunity to talk to a number of potential families looking to adopt. Adoption Applications were taken from all those interested. It is interesting to note I purchased my first Subaru in 2009. I have driven it to and from the shelter many times. When I'm in my Subaru I know I will get to the shelter, each call, rescue and home again. It has carried many pets to and from veterinary visits. Many from being abandoned when families moved and left them behind. Many from cruel living conditions. A lady that rescues and cares for abandoned cats and kittens also has a Subaru Forester for use in her rescue work. Neither of us knew anything about the Subaru Loves Pets Initiative prior to our purchase. What we did know is it would get us to and from where we needed to be.
---
Gus the Underdog Guest of Honor - Holly M
Gus is a 7 month old Great Dane/ Labrador Retriever mix who was invited by Shaelynn Holland to be the Guest Of Honor for the adoption event that took place on October 23rd. He was the perfect Guest of Honor to represent the Underdogs that Subaru focused on this year. I was truly honored to bring him out to meet people and educate them on dogs with disabilities, and how they make a wonderful addition to any family willing to put in the work. Gus was born on April 8th and had always been different from the rest of his siblings. He had to be bottle fed, and could never quite learn how to fully walk on his own. He was tiny compared to the rest, so they called him Tiny Tim. Since I took him in, he has had X-rays and bloodwork which has shown nothing wrong. Unfortunately I do not have the funds to get him an MRI of his brain and spine to see what is wrong. Cornell University suggested a steroid trial and a rehabilitation specialist. I am currently searching for a good Rehab center here in NY to take a look at him and to help train me on how I can help him move his limbs better. He can move all 4 limbs but he is weak. He cannot stand or sit on his own, although at times I have seen him sit on his knees for a few seconds. He also cannot wag his tail or control his bladder. Gus loves to eat, and is he ever messy!! Gus is a very special pup who is full of life and love! He loves meeting new people and animals, and just wants everyone to be his friend! Anyone who has had the opportunity to meet Gus has completely adored him! He has touched many people's lives with his story of struggle and being different, yet so determined to live a normal life. His story hit near Tampa, Florida where a man named John heard about him and through John's organization called RUCK9, Gus got a wheelchair donated to him! Since receiving his wheelie, Gus has been able to live his best life! You can follow Gus on Facebook at "Sweet Gus' Extraordinary Life" to learn more about him, watch him live his best life running in his wheelchair or playing with his friends, and see any updates I post!
---
Cans for Kids - TJ R
Thank you to Subaru for helping our local police department collect bottles and cans. We in turn take the proceeds of these efforts to purchase toys to donate to the Clinton County Christmas Bureau. By doing this Subaru is helping us provide Christmas toys for our needy area children. We believe that the holiday season should be a joyous one and that every child should have a gift to open Christmas morning. Thank you Subaru for helping us help others! We sure do make a great team together!
---
Crosstrek vs Black Bear - Jennifer G
Last weekend I decided to come home and visit just for a few days because I wanted to come home for the snow! On my way home from college in Rhode Island, I was about 30 minutes away from my home in Keene in my 2018 crosstrek when I hit a 300-400 lb black bear on a 55 mph backroad going around a slight bend when it was pitch black out. The last thing I remember was the bears eyes and then it went black. I woke up thinking I was going to be severely injured, maybe I was in heaven but nope I was wrapped in airbags all around my body and even my legs! The airbags were so comfortable they felt like pillows! I was amazed because I didn't have a scratch on me or one injury. Thanks to Subaru I was able to crawl out of my smoking car without any injuries at all coming from such a high impact accident my seat belt broke and I'm only 115 lb. girl! I'm also 20 and was alone in the middle of nowhere when this happened with no service, so my roadside assistance wasn't working so I had to flag down for help. The bear was very injured and was found about 100 feet from my car when the police arrive (about an hour later). The next morning still being traumatized as my brand new crosstrek was totaled and I needed to get back to college in Rhode Island asap as I only have 2 weeks left. I had no clue what I was doing I was so stressed out, so I just called my dealership. I literally didn't even know what to tell them because again this was a lease and I HIT A BEAR. I am so thankful that Shae answered the phone that day when I called because she was able to give me a new set of wheels under a week by helping me through just text/call. Shae guided me and advised through the whole process of what I needed to do not just for getting a new car but how to deal with insurance and just she went above and beyond to help me get my accident figured out so I could go back to school. She just really understood that, and I don't think anyone else could of enough. I can say that I feel like a very valued customer by Subaru and especially thanks to Shae for being so amazing and diligent with me as I have never been in this position before and the timing of this for me is awful as I have two weeks of college left. I wouldn't recommend any other car to anyone else and Subaru earned themselves a lifetime customer with the safety protection of that vehicle and the amazing customer service that I have experienced all around.
---
Subaru Love Promise at Della Subaru - Shirley M
Wonderful, "Subaru Love Promise " held at Della Subaru, Platsburgh, New York. 12901 "Our host Shae Osborne" put on wonderful adoption day experience for The North Country Animal Shelter. A chance to find new homes for some of our pets by this adoption event. It was well organized, with safety measures of masks, social distancing, and hand sanitizers available. Applications were taken and pre-approved prior to the event. We knew ahead of time who would make great pet parents. With Covid-19 making it so difficult to hold any events, this was a welcome distraction and event to get out in the sunshine and make new friends. It was also a chance for the adoptable pets to socialize and find their forever home. Older adults who had their fur friend pass away and needed a new friend to fill the void that covid-19 has given their lives. A 10 year old dog needing a new home as her owner had passed away. Aged pets are hard to place. Few are willing to open their hearts to an older pet that may be on the edge of health issues. It took just this one family, willing to take a chance and adopt Bailey. The laughter and giggles of the young who can't resist the wiggles of happiness from the puppies and kittens. Shae had a table set for the children to color and draw a picture of their own pet. With Sippy boxes and wrapped crackers to keep them safe for the children to enjoy as they colored cartoon sheets that educated children on pet overpopulation, spay and neuter, adopt and most of all, Pets Need Love! Shae and Della Subaru for the whole of October collects and has collected, many different items needed to care for the pets at the shelter. Even the local Police Department showed up with their cruiser filled with dog and cat food. The North Country Animal Control Center Inc. DBA North Country Animal Shelter is a New York State Registered Shelter/Rescue No:RRO55. We are a small shelter rescue in Malone, New York 12953. We are honored that Shae Osborne and Della Subaru chose our shelter to sponsor during this amazing event. What Shae and her coworkers did not know at the time she asked if they could sponsor the Shelter is. The rescue vehicle used to transport rescue pets is, a 2009 Subaru Forester. Purchased brand new off the lot when it was McBride's Subaru, Now Della Subaru. It has gotten me to and back again to every call I am called to go out on. Back roads, main roads, mountain roads, rain, ice and snow. When called out I know I will be safe and I will return. Thank You Shae Osborne, Della Subaru staff and everyone who let us be a part of " Love Subaru Promise ". On November 1, 2020, we will return to pick up all the donations you have collected. Shirley Morton North Country Animal Control Center DBA/ North Country Animal Shelter
---
Subaru Impacting families and children - Justin I
As the CEO of the plattsburgh YMCA, we are only as good as the relationships and partnerships we create. It's an important part of how our local YMCA impacts the communities we serve across the North County of New York State. So when a business like Subaru reaches out and wants to create a partnership and relationship unsolicited you know there are good things about happen. Almost three years ago the owners of Della Subaru family reached out and shared that they wanted to partner on their Share the Love event. This turned out to be an incredible relationship that is going into its third year with the Plattsburgh YMCA. During this event whenever someone purchases a vehicle the new owner can choose out of five charities to donate to. We are honored to be the local choice. For the last two years Subaru contributed over $37,000 to our Plattsburgh YMCA. These dollars went directly to families and children in our community that otherwise could not afford the cost of programs. Programs like child care where 50 families received reduced tuition- so the parents could continue to work to provide for their family. Or membership to the Y -where 40 families had reduced fees so families can exercise and be healthy as a family. The Share the Love program enabled over 100 children to attend summer camp- giving them time in the summer months to learn new skills, make new friends and create memories that will last a lifetime. Our small YMCA counts on the community for donations as part of its mission as a charitable non-profit and this new partnership going into its third year has been such an incredible partnership and each year it grows. The first year they donated almost $17,000 and the 2nd year just under $21,000. But it's important to mention that this partnership is not a "transactional" one. I truly believe that Subaru and the Della family wants to connect with the communities they serve. I am humbled and honored to be entering our third year with Della Subaru and look to help more members of our community have equal access to the YMCA regardless of their economic challenges. Thank you Subaru and thank you Della family for your continued support and partnership.
---
Cans for Kids - TJ R
I just wanted to thank Alesha and the Subaru family for taking it upon themselves to kick start our annual Cans for Kids bottle drive to support local children in need at Christmas time. We are overwhelmed by their commitment to our community and cannot thank them enough for showing the community what it means to be outstanding!!! Corporal T.J. Rabideau Plattsburgh City Police Local 812
---
BACK WITH THE SUBARU FAMILY - Justin I
Our family is in love again! We are back in the Subaru family and loving every minute of it. My wife and I recently found ourselves car shopping. We always loved Subaru and had one years ago, but now was the time to come back to this family. But of the best part of this story was the customer service that sold the deal. Andrew was our guide. There was no "sales pitch"; no "lets make a deal". It was pure customer service that truly made us happy. Andrew made us feel comfortable. He asked what we were looking for in a new car; anything that we absolutely could not live without. And with a family of 5 and dog (Lyla) and the fact that we do a fair amount of traveling-it was important that we got the right car. We ended up test driving the ASCENT - this was the car. Andrew walked us through the process and again made sure that it was what we wanted and had what we needed for the family. We left that day to think it over- Andrew gave us his personal cell phone in case of questions. When we came back Andrew met our needs for the sale and within 24 hrs we drove away with a great car. We opted for a leasing option because of our personal needs. But before we left Andrew introduced us to the Subaru team, walked us through the features of the car, and continued over the next few days to check in on how we were doing. I have worked in the customer service field for over 30 years and this was top notch. Subaru is a great car and with all the amazing safety features for my family, it was the best choice. Della Subaru is truly a community dealership and cares about the relationship over the sale and that's what brought us back into the Subaru family.
---
Thank you for the School Supplies - Jan R
I would like to thank Della Subaru and Shaylynn Holland-Osborne for the school supplies that were provided to my home daycare. In these difficult times, it is reassuring to know that local businesses like you are looking out for the kids in our community. Our school district is currently fully remote until the beginning of October, so the added supplies made schooling from home and daycare much easier, and it took the pressure off parents having to spend extra money that was not in the budget this year for materials. The donation is very much appreciated, and I would like to again thank Shaylynn and the whole team at Della Suburu for the generous donation.
---